The family's oil mill was put back into operation fifty years ago by André Castagné, the grandfather of Romain and Adrien. In the past, the millstone was towed by an animal, it's called a blood mill. Today, the mill is powered by electricity, but the know-how has remained the same for many generations.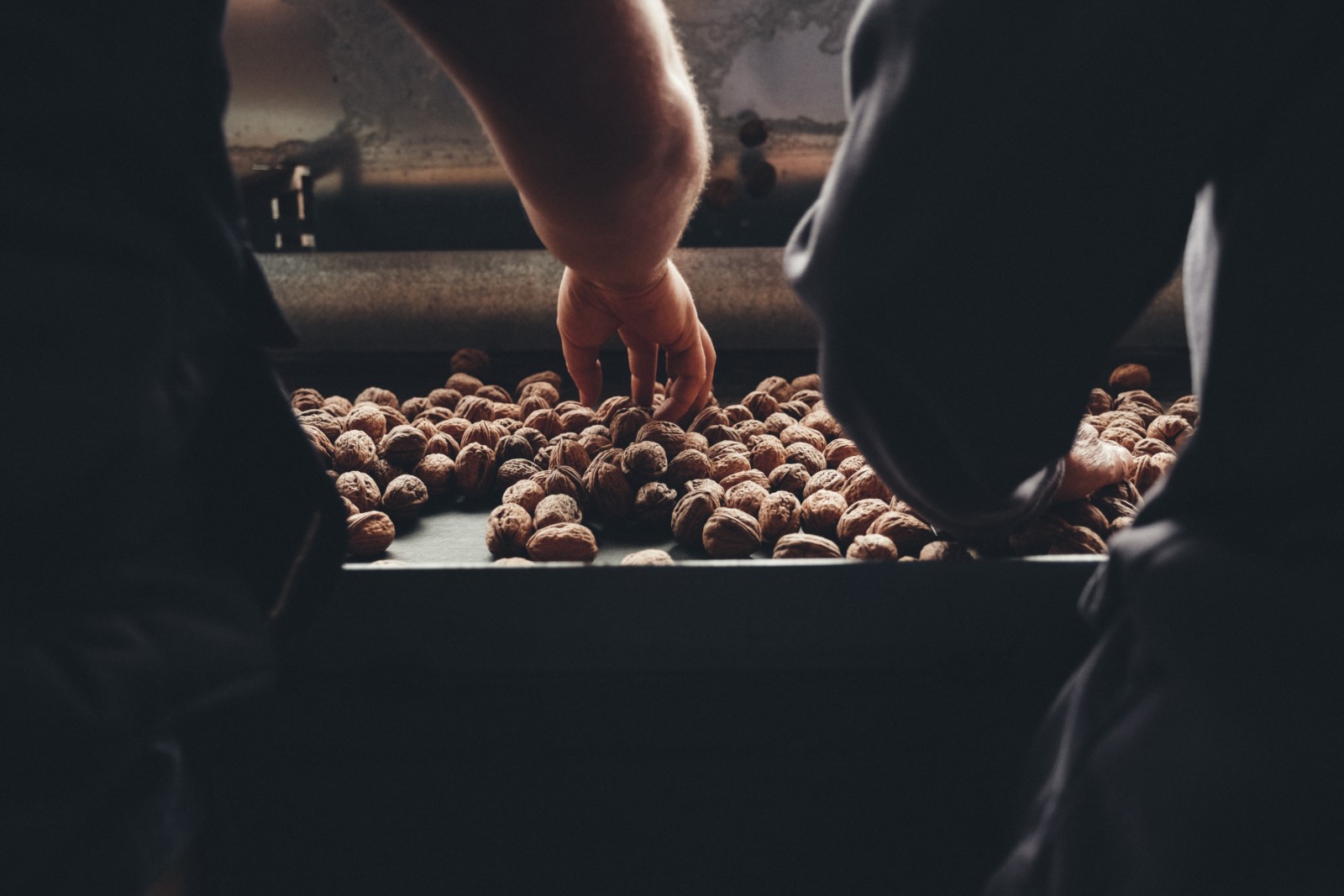 First, the nuts are broken and enoised after harvest to separate the kernel from its shell.
The breaking is mechanical, but all the sorting phases are manual so as not to let black nuts or small bits of shells pass through.
Then the kernels are deposited under the 800kg granite grinding wheel.
You can put between 25 and 35kg of kernels underneath that you will crush for about 30min to obtain a very fat paste.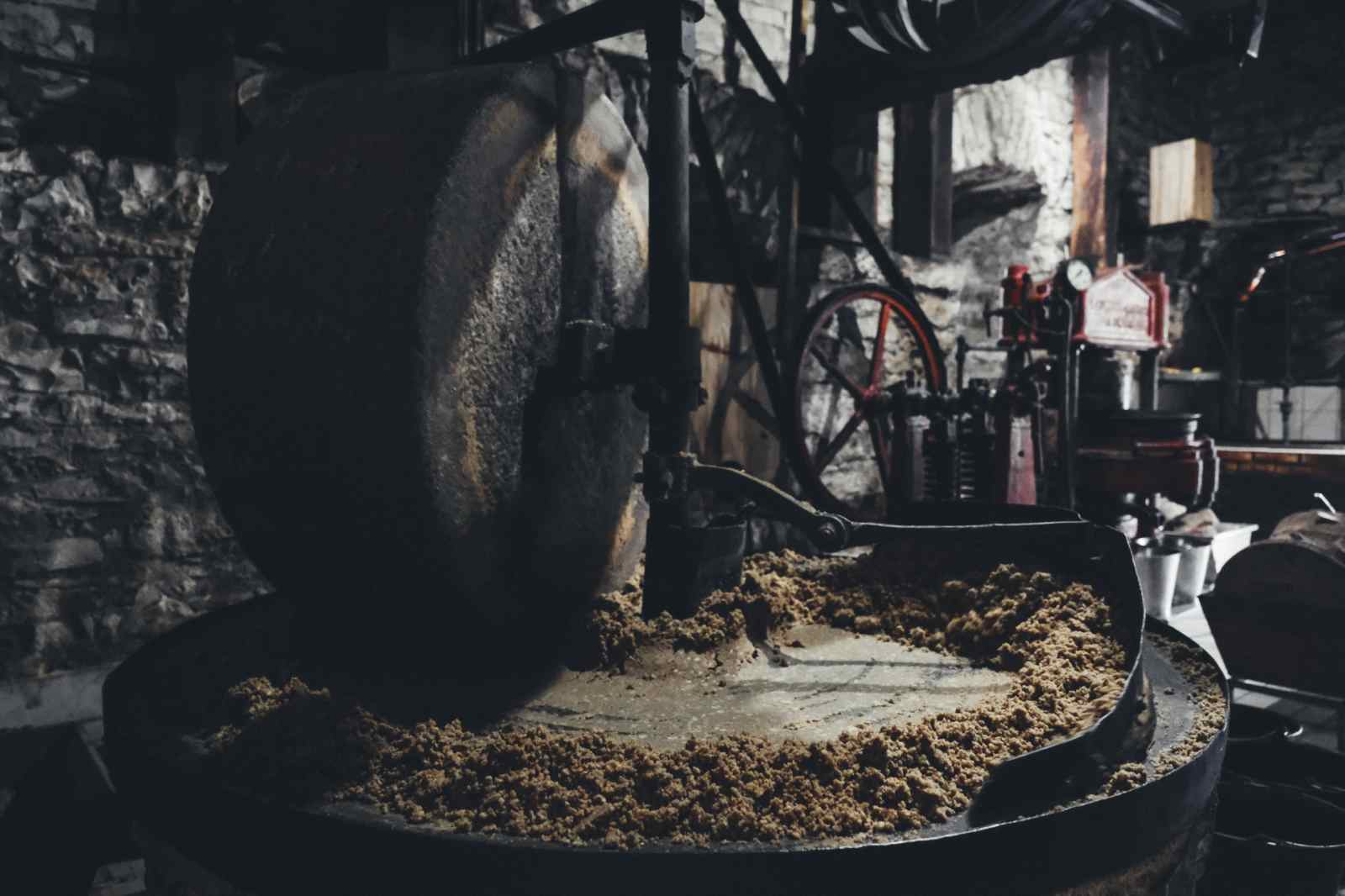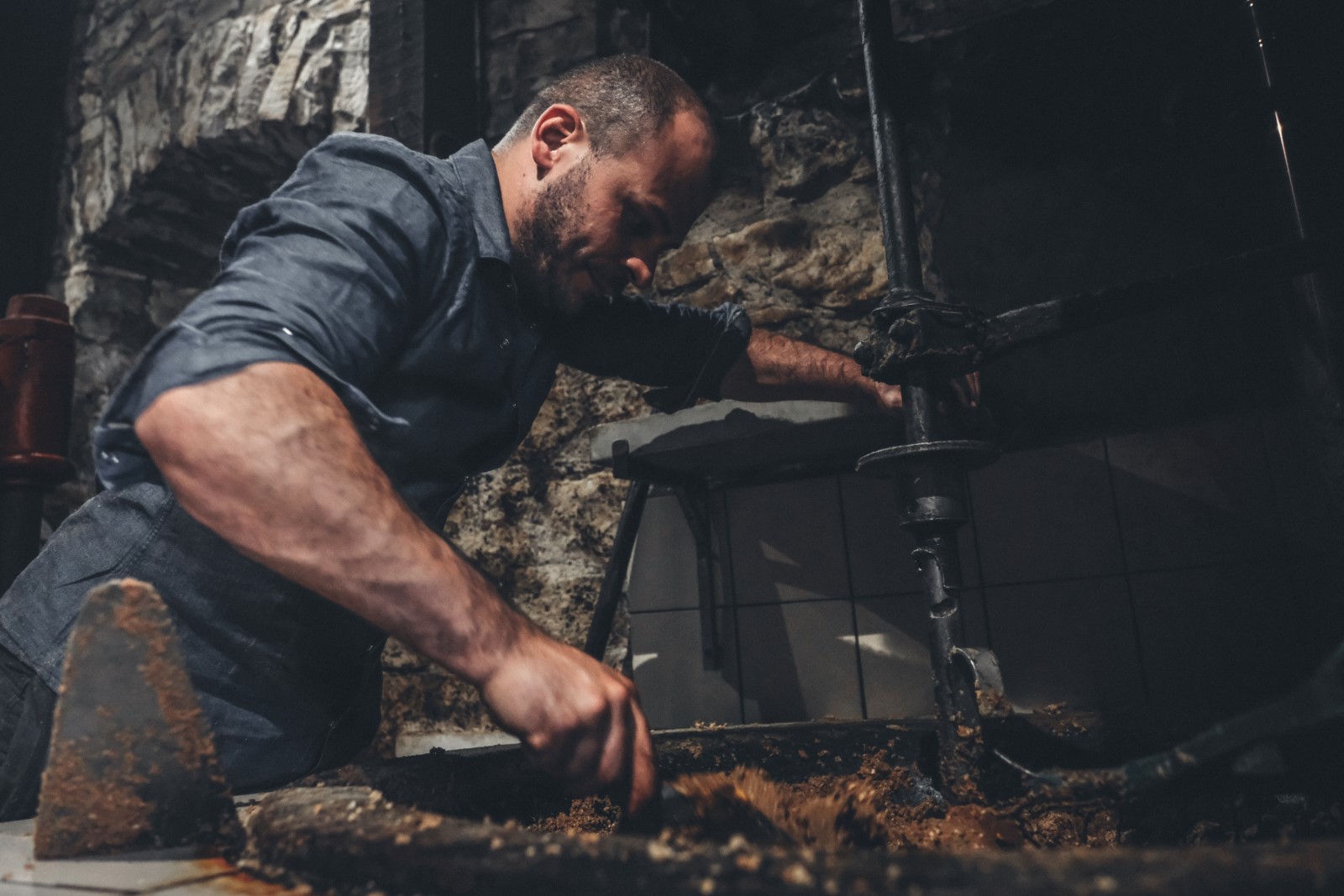 This paste will be deposited in the large cast iron pan that is heated with wood and walnut shells! This step is very important to give flavour to our different nut oils. It is a cooking, but also a more or less intense roasting that will give us oils with more fruity or more toasted tastes. Know-how is very important at this time.
Once the desired roasting is done, the oil maker puts the dough into the press which will extract the oil with a pressure of about 150bar. The hot oil flows into buckets and is stored directly in stainless steel tanks where it settles for 3 weeks. Walnut oil has omega 3 and 6 which help to fight cholesterol.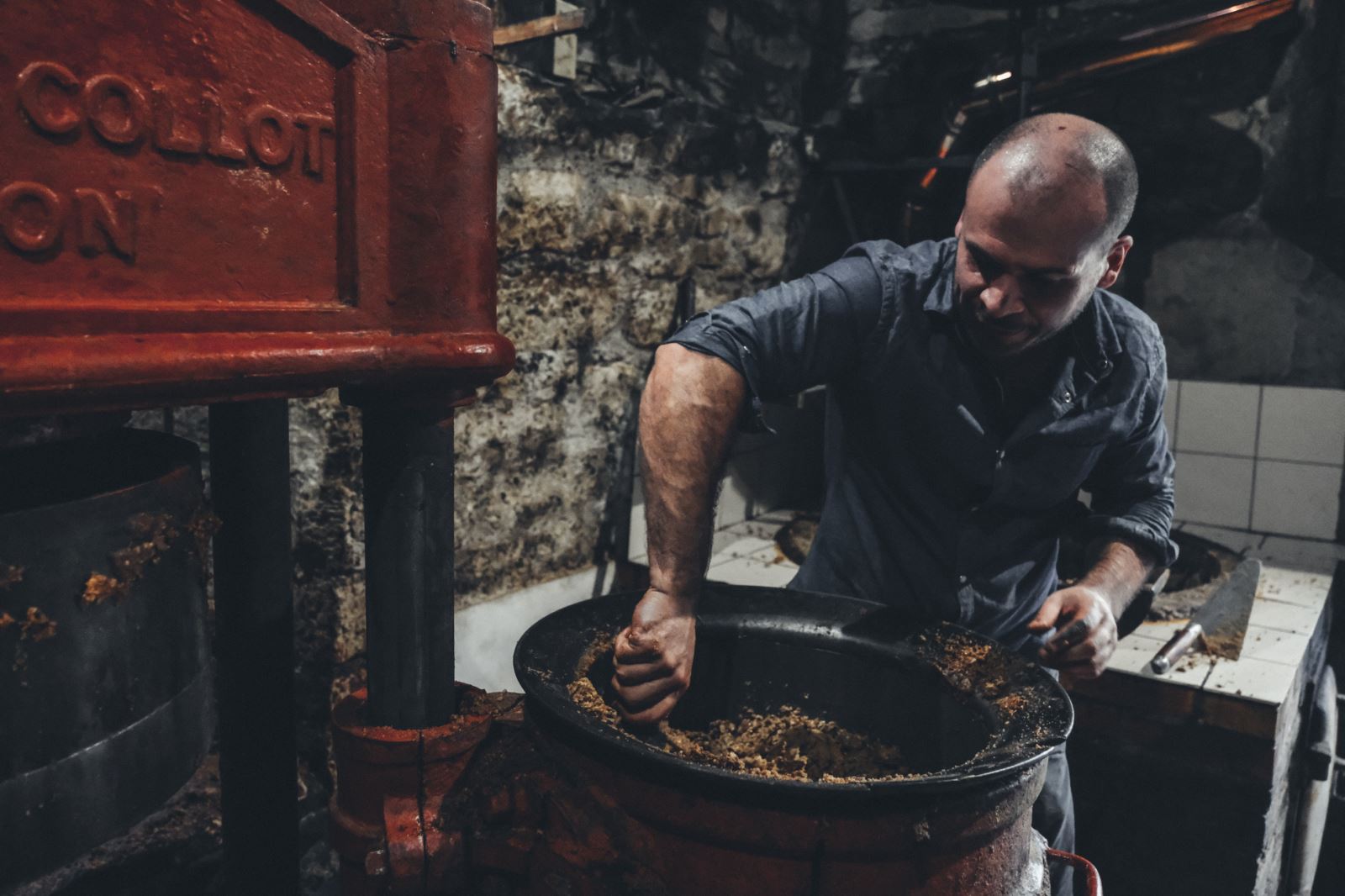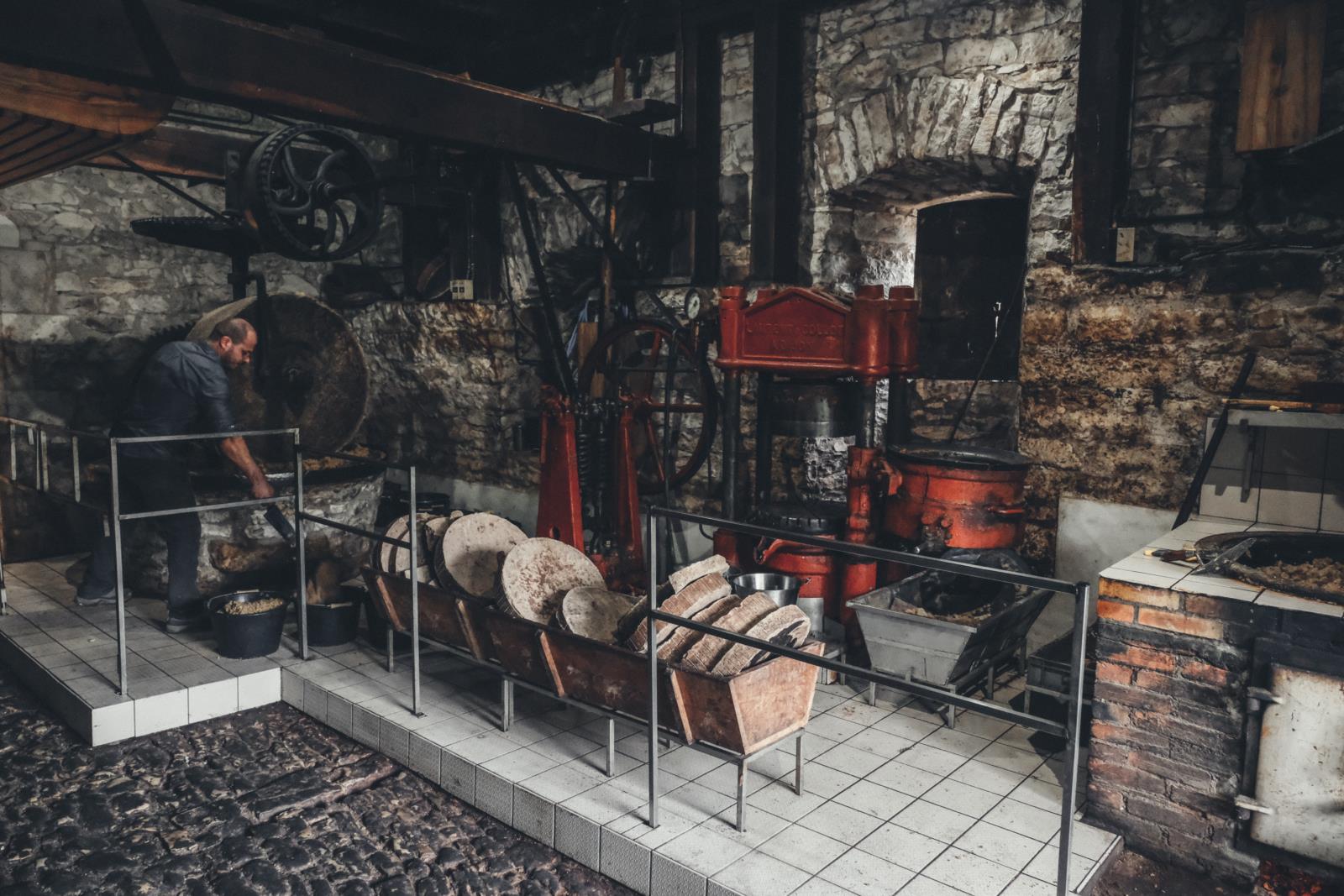 In the press, the nutmeal is recovered: what is left of the fruit once the oil has been completely extracted. These are fed to the animals (sheep, cows. . . ) and we keep some of them that we crush under the mill again. Once sieved, we obtain a nut powder that can be used in cooking and pastry, in addition to white flour. Walnut powder is gluten-free and full of protein.
Le Moulin à huile offers walnut producers to press their oil! If you have between 25 and 35kg kernels (or multiple), you can make an appointment with us to arrange a date to press your oil. It takes 2 hours for a press (30kg) and the price is 1. 40€ excl. /kg of kernels, or 1. 68€ incl. tax/kg of kernels.